Regular price
Sale price
$50.00 USD
Unit price
per
Sale
Sold out
Who's it for?
Suitable for all skin types.
Nutritional Value
This detoxifying facial melts away tension and stress and aids in lymphatic drainage, revealing a smoother, firmer and brighter complexion.
Using our award winning Clean Greens Superfood Serum or Tomato Tonic Fragrance Free Serums, Indian massage and mushroom gua sha techniques in a express, accessible facial. Please do not wear makeup to your appointment.
As seen in Soho House. Duration 30 minutes.
We will have a consultation about your current skincare routine, your skincare goals and any products that would be suitable for your skin type.
What to know before your appointment
Each of the following is a contraindication to this facial massage. Should any apply to you we will not be able to perform the treatment. Roshanne (Founder) reserves the right to reschedule appointments should your skin not be in a healthy condition for the treatment to go ahead.
Skin conditions in the area being treated (e.g. active acne, eczema, psoriasis, cold sores, broken skin, sunburn, rosacea, cuts, bruises) or Long-term steroid use that has affected the skin

Recently formed scar tissue including keloids

Skin diseases/disorders

Phantom neurological pain

Eye infections

Extreme claustrophobia

PL, Laser Resurfacing or Laser Hair Removal in the Area Less Than 2 Weeks

Fillers and Botox less than 1 month old

Facial threads in the last 4 weeks
Facial Surgery in the last 6 months dependant on healing
 Have used skin resurfacing products or had a treatment in the past 2 weeks (e.g.
Retinol, AHAs, BHAs, Dermabrasion, laser, peels) or TCA peels in the past 4-weeks
Cancer in the area being treated – if less than 12 months in remission
Pregnant or maybe pregnant (due to use of EMS). After the 1st Trimester extra
deep massage maybe performed
Metal plates or pins in the face or neck/ Epilepsy / Prone to bone fracture or Severe Osteoporosis / Heart conditions (use of FGPRO/PURELIFT)
Uncontrolled diabetes or experienced loss of skin sensation
What to know after your appointment
Drink plenty of water
Avoid swimming and saunas 24 hours post treatment
The T&Cs
Refund Policy: I understand that things happen, so if you must cancel your consultation, as courtesy please cancel 72 hours beforehand, in extreme circumstances you can email me to cancel no less than 24 hours beforehand. Upon cancellation you will receive a credit to reschedule the same service for a later date. The Glowcery does not offer refunds, your credit is valid for life for services available at the time of rescheduling.
Location: Riley's Tropical Food, 8 Sundon Park Parade, Luton, LU3 3BH. Riley's is a safe and kind space, please help me to keep it this way by being kind and respectful. Please do not bring anyone else to your appointment including children and pets.
Travel by car: There is free parking along the road directly in front of the shop.
Travel by train: The closest train station is Leagrave, exit on the side of the car park and it's a 15-20 minute walk to the shop.
Arrival: Please do not arrive more than 5 minutes early to your appointment. You have a 10-minute grace period for lateness, after that your appointment will be rescheduled for a later date or cancelled.
Cancellation/Non-attendance policy: As a courtesy no cancellations or changes are allowed within 24 hours of the appointment.
You'll only be able to reschedule once; if you reschedule more than once you will lose your booking fee and another one will be needed to confirm your new appointment.
Rescheduling Policy: Please contact info@theglowceryshop.com no less than 24 hours before your scheduled appointment.
Where to find us
Location:  Mimi's Studio PRO Studio 33, Unit 10, Elizabeth Industrial Estate Off, Juno Way London SE14 5RW.
Nearest Station: South Bermondsey (National Rail: 10-15 min walk to destination)
Alternative Route, Nearest Tube: Canada Water (Jubilee Line) take Bus 255 to Grinstead Road (10 min walk to destination).
Share with friends
View full details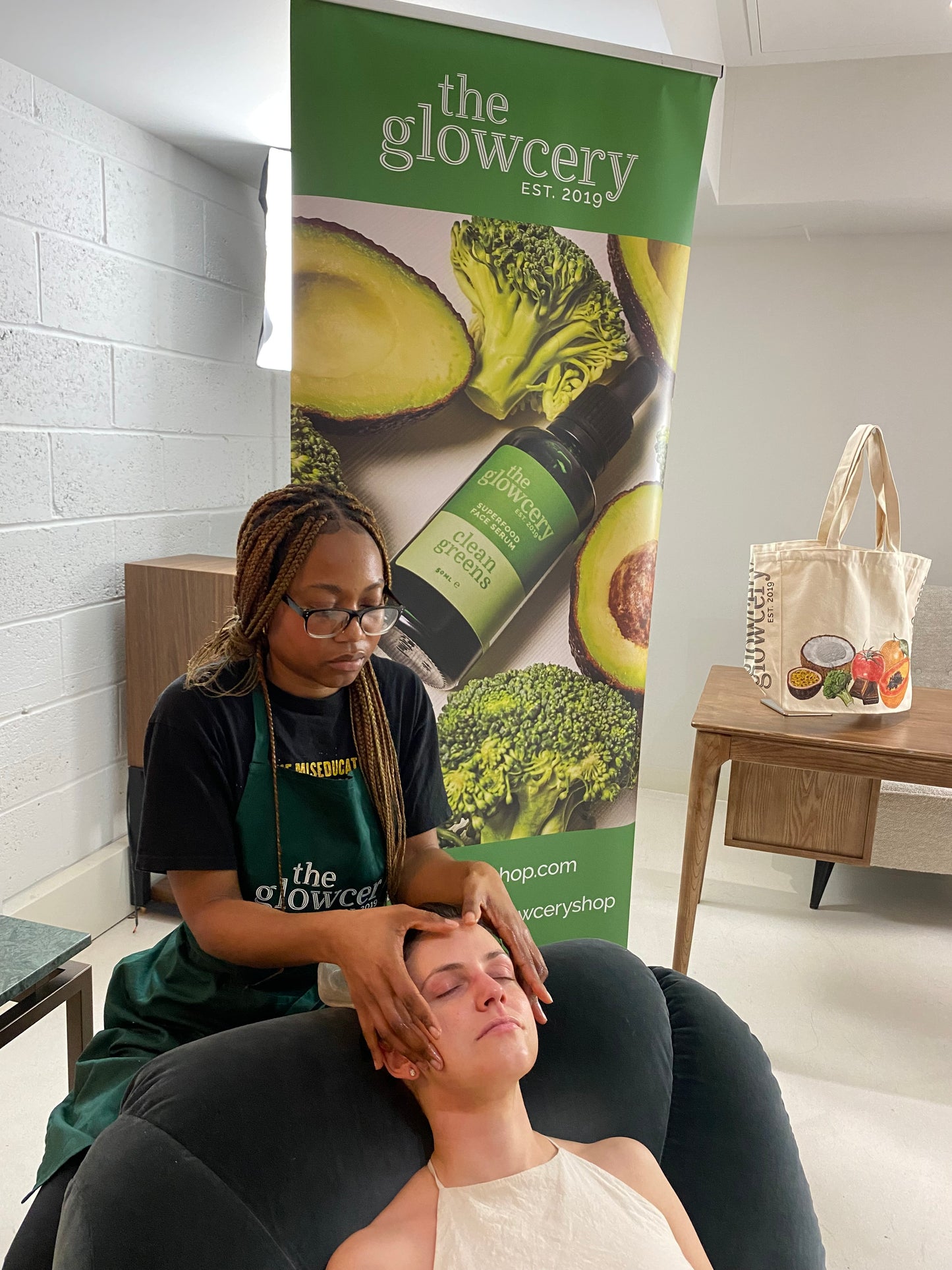 Customer Reviews
100
reviewers would recommend this product
Write a Review
10/03/2023
INÈS E.

United Kingdom
I recommend this product
Facial Massage: Clean Greens Superfood Serum
Glowcery founder Roshanne invited me to experience a new service from their menu of facials following a very stressful week of moving house. I'm already a big fan & supporter of Glowcery so I was delighted to be invited to indulge in some r&r Upon arrival Roshanne greeted me and made sure I was able to find the treatment room as I was unfamiliar with the venue ~ so I felt cared for before I even sat in the chair to begin to receive treatment After such a chaotic week I jokingly anticipated I might burst into tears or fall asleep during the service (!) Roshanne reminded me that 'that's okay, this is a safe space' which made me feel even more comfortable ‍♀️ I've had facials and massages before ~ but never experienced anything like this! As I closed my eyes and prepared to receive, the divinely delicious *smell* of Clean Greens Superfood Serum transported me into a bubble of bliss The treatment lasted 20-30 mins and I felt so refreshed and renewed upon blinking my eyes open Roshanne had back to back bookings for the rest of the afternoon, but still carved out time for a quick catch up afterwards, so I didn't feel rushed to leave I left with a smile on my face & a spring in my step 10/10 Love, Inès